SUNN O)) & Herr Drude / Julian Cope 2003 & 2006
Posted: Sep 2, 2015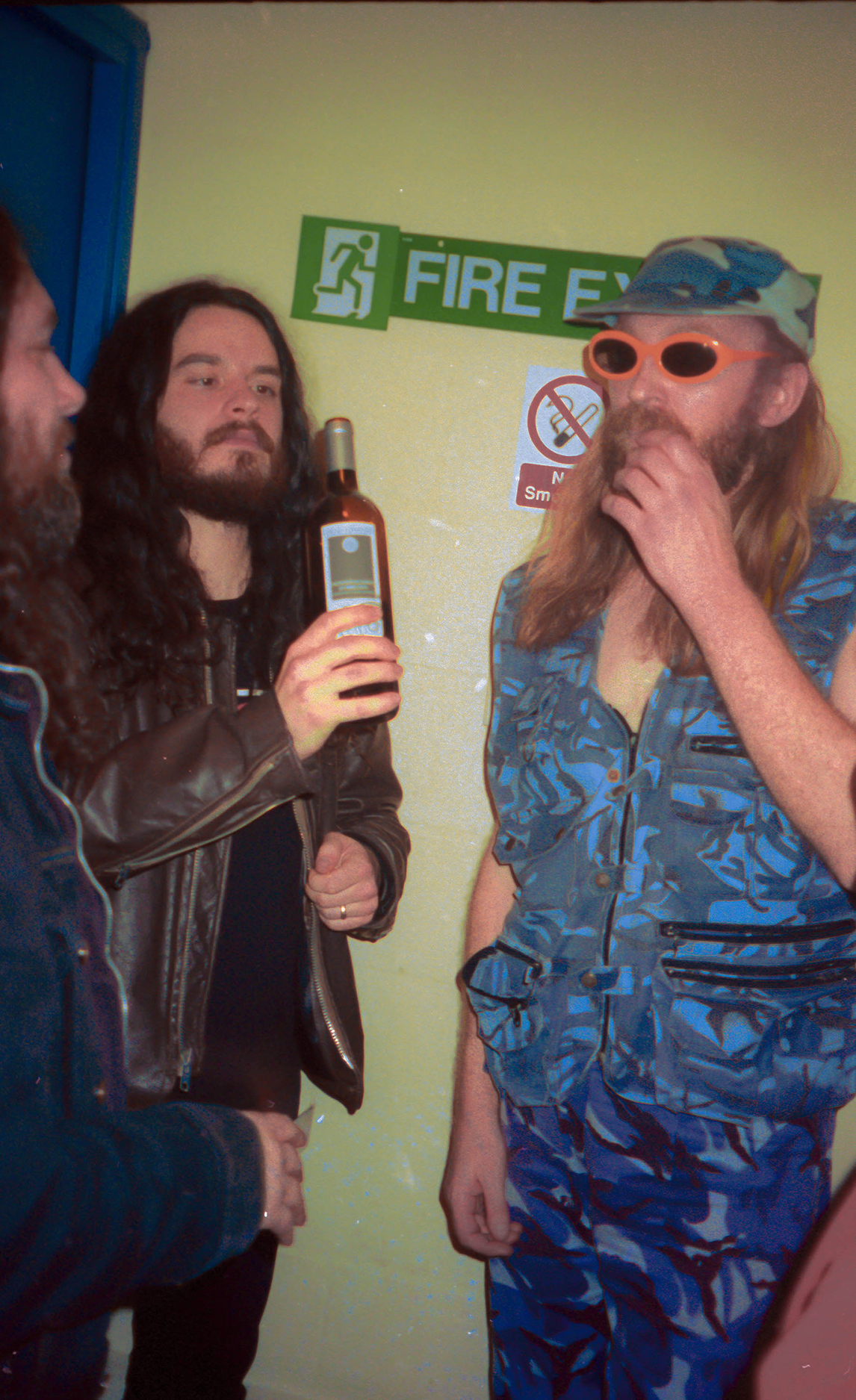 Photos above by The Seth Man taken backstage at the "Rome Wasn't Burned In A Day" event, Lyric Hammersmith, London on 1st November 2003. Event curated by Cope. He joined SUNN O))) onstage for the concert that evening along with the lineup of Anderson, Csihar, O'Malley, Ritter and Smithson. Somehow Ritter's computer was stolen off stage as were guitars of Doggen (from Cope's BRAIN DONOR group at the time) & Cope. I remember those being a Jaguar and a BC Rich. These instruments were never recovered and the unholy asshole who swiped them brought a dark cloud which took a while to burn off. Corruption in the high security of the Lyric Hammersmith.
In any case here is an amusing review of Cope's performance with his own band from said festival by The Guardian: http://www.theguardian.com/music/2003/nov/01/popandrock2
"You know what I love about these fucking songs?" Cope said. "They all sound exactly the fucking same." The event terminated with a 20-minute Reynard the Fox, a pretext for a Cope rant ending in repeated cries of: "Education!!!" Which is what it had been.
::::
Herr Cope also joined SUNN O))) onstage for a special SUNN O))) "Moog Ceremony" concert in Brussels at the Ancienne Belgique / Domino Festival on 9th April 2006. The cult Japanese psychedelic heavy rock band BORIS also played that evening. The O))) lineup was Atsuo, Anderson, TOS, O'Malley, Cope. Furthermore, Seldon Hunt, Andrew Hartwell & Sylvia Farago comprised a badd ass O))) posse. As far as I know this may be both the first time in a long time and also the last time Le Drude performed on the continent. Bittersweet?
Evidence of the 2006 event here:
live: 
minidoc produced by the Domino fest people at AB: 
Hail to thee, Herr Drude!
 -Hairy Dudes