Where the Wild Things Are / Europe's Wild Men / Charles Fréger photographs
Posted: Mar 24, 2013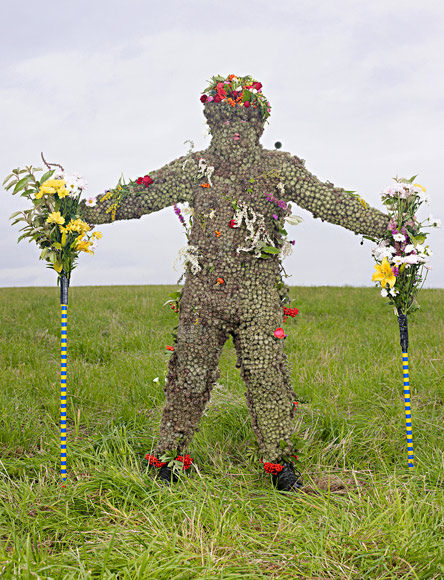 Charles Fréger in National Geographic and New York Times this week. Articles and some images posted here.
http://ngm.nationalgeographic.com/2013/04/europes-wild-men/freger-photography

Europe's Wild Men
They become bears, stags, and devils. They evoke death but bestow fertile life. They live in the modern era, but they summon old traditions.
By Rachel Hartigan Shea
Photograph by Charles Fréger
A primal heart still beats in Europe. Deep beneath the gloss of cell phone sophistication lie rituals that hark back to harvests and solstices and fear of the winter dark. Monsters loom in this shadowy heart, but so does the promise of spring's rebirth and fertile crops and women cradling newborn babes. It turns out that Europe—at least pockets of it—has not lost its connection to nature's rhythms.
That connection is rekindled during festivals that occur across the continent from the beginning of December until Easter. The celebrations correspond to Christian holidays, but the rituals themselves often predate Christianity. The roots are difficult to trace. Men—and until recently, it has almost always been men—don costumes that hide their faces and conceal their true forms. Then they take to the streets, where their disguises allow them to cross the line between human and animal, real and spiritual, civilization and wilderness, death and rebirth. A man "assumes a dual personality," says António Carneiro, who dresses as a devilishcareto for Carnival in Podence, Portugal. "He becomes something mysterious."
Photographer Charles Fréger set out to capture what he calls "tribal Europe" over two winters of travel through 19 countries. The forms of the costumes that he chronicled vary between regions and even between villages. In Corlata, Romania, men dress as stags reenacting a hunt with dancers. In Sardinia, Italy, goats, deer, boars, or bears may play the sacrificial role. Throughout Austria, Krampus, the beastly counterpart to St. Nicholas, frightens naughty children.
But everywhere there is the wild man. In France, he is l'Homme Sauvage; in Germany, Wilder Mann; in Poland, Macidula is the clownish version. He dresses in animal skins or lichen or straw or tree branches. Half man and half beast, the wild man stands in for the complicated relationship that human communities, especially rural ones, have with nature.
The bear is the wild man's close counterpart—in some legends the bear is his father. A beast that walks upright, the bear also hibernates in winter. The symbolic death and rebirth of hibernation herald the arrival of spring with all its plenty. For festival participants, says Fréger, "becoming a bear is a way to express the beast and a way to control the beast."
Traditionally the festivals are also a rite of passage for young men. Dressing in the garb of a bear or wild man is a way of "showing your power," says Fréger. Heavy bells hang from many costumes to signal virility.
The question is whether Europeans—civilized Europeans—believe that these rituals must be observed in order for the land, the livestock, and the people to be fertile. Do they really believe that costumes and rituals have the power to banish evil and end winter? "They all know they shouldn't believe it," says Gerald Creed, who has studied mask traditions in Bulgaria. Modern life tells them not to. But they remain open to the possibility that the old ways run deep.
(READ THE COMMENTS)
Where the Wild Things Are
By JAMES ESTRIN
Charles Fréger was fascinated by what the human race lost over the millenniums when it evolved from hunter-gather to farmer and, eventually, urban dweller. After learning that there were Europeans who continued ancient pagan rites of celebrating the winter solstice and the beginning of spring, he set out to examine what traditions faded as people became more civilized.
In 2010, Mr. Fréger began to photograph the few small farming communities, in mountainous areas, that still follow the customs that for the most part were precursors to Christmas, New Year's and Easter. He found that many dressed like animals.
"When I saw the costumes and spent time with these people," he said, "I realized that I have always felt like a bear."
"These traditions come from Neolithic times — from shamanism — and they have never stopped," said Mr. Fréger, 38. "For a few nights you can behave like a goat, drink a lot and forget about being civilized. You can be a wild animal for three days and then you go back to controlling your wildness."
About 10,000 years ago, humans began domesticating wild animals for both food and companionship. Over the course of centuries, animal species were bred for traits that made them docile and more useful to their masters. But as humans changed and fenced in animals, they were also domesticating themselves. The skills needed to survive in the wild were different than those needed to succeed in more complex social arrangements.
Mr Fréger was intrigued by the transformations of human being to beast that he witnessed in 18 European countries. They were, he said, celebrations of fertility, life and death and symbolized the complicated relationship between mankind and nature.
His sculptural portraits are featured in the April issue of National Geographic and are collected in his book "Wilder Mann," published in four languages including an English edition from Dewi Lewis. The work will also be exhibited simultaneously at the Yossi Milo Gallery, from April 11 to May 18, and at the Gallery at Hermès on Madison Avenue.
As strange and exotic as the costumes and traditions might seem, Mr. Fréger said, they felt somewhat natural for him. His father was a farmer, in the center of France, as were his grandfather and great-grandfather. Mr. Fréger grew up milking cows and studied agriculture in college intending to join the family farm.
"I learned to be a farmer before I went to art school," he said. "I was not so different from the people I photographed."
He chose photography over raising animals. Though his recent ancestors, as far as he knows, did not wear primitive costumes of wild animals, Mr. Fréger said, he has never felt domesticated.