DESCENT MAGAZINE vol III (1996), Motörhead 1978 tour program, Bilibin portfolio, etc free downloads
Posted: Dec 24, 2011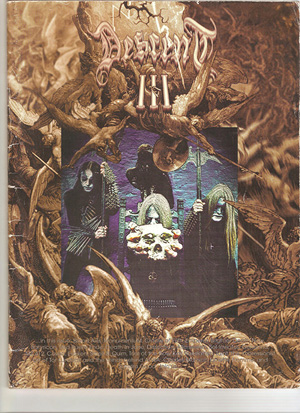 In honor of Lemmy's birthday (actual age unknown) I have reposted the Motörhead 1978 tour program, and the amazing BLOW TO MY SOUL! garage funk compilation in the MEDIA/SHOP section

I also finally had DESCENT MAGAZINE vol III (1996) fully scanned, you can check it out as a pdf. Third issue of my old fanzine created with the great help and collaboration of Tyler Davis, and with contributions by Runhild Gammelsæter, Bard "Faust" Eithun and others. Interviews with: Blood Axis, Monumentum, Cradle of Filth, Emperor, Brighter Death Now, Satyricon, Ved Buens Ende, Death In June, Dissection, Allerseelen, Sol Invictus, Gehenna (NOR), MZ.412, Coven, Evoken, Smell & Quim, Trial of The Bow (ex-DISEMBOWELMENT), Kari Rueslatten, Taint, Tor Lundsvall, ATWA (Charles Manson, Lynette Fromme & Sandra Good), plus hundreds of slanderous and praise-filled reviews. Layout hugely inspired by Cold Meat Industry design of the time, albeit with a naive touch and junior typography skills, therefor quite hard to read in many places.

Hard to believe this is 15 years old already, and that many of these musicians are still around in one form or another. I believe we printed 1500 copies of this "tome".

I will continue to upload the other issues of this zine as they are scanned. If anyone out there can help with issues 2, 4 & 5 please be in touch. I will trade discs for scanning.

Lastly a 165 page portfolio of the great, inspiring, always relevant/revanent Russian artist Ivan Bilibin has been posted.
Check any/all of these pieces here: MEDIA/SHOP

Thanks for reading & listening.

All our best for 2012.