RIP VAMPIRA
Posted: Jan 15, 2008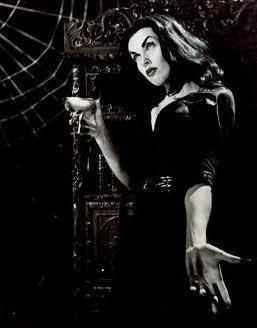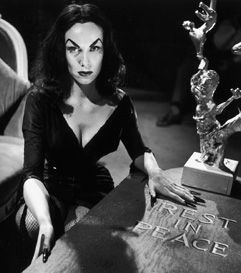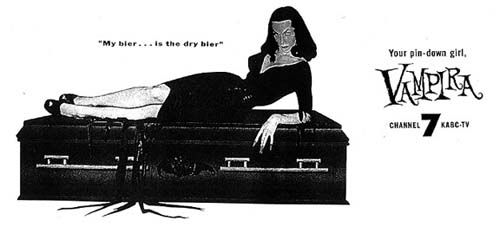 Maila Nurmi passed away from natural causes on January 10th, 2008 in Los Angeles. She was 86. The reason there was no official word is that there is no official source of information. She had no manager and was, most of the time, reclusive.
Vampira represented a lost, nearly forgotten time when monsters were created in labs, lived in Transylvania and had to avoid the full moon.
She was one of Man Ray's first models, one of James Deans best friends and was personal jeweler to Grace Slick and the Zappa family.
She was immortalized as Bela Lugosi's 'dear, departed wife' in Ed Wood's classic 1959 Plan 9 from Outer Space and immortalized by the Misfits in the song 'Vampira' from their seminal 1982 release Walk Among Us.
Friday nights at 11pm on K-ABC from Los Angeles during the 50's, to the tune of Holst's "Uranus" from the Planets seated on a victorian double-ended sofa Vampira introduced such classics as The Flying Serpent, The Devil Bat's Daughter, and Castle of Doom.
Her Catchphrase at the end of each show?: Dig me Later.......
I cannot think of a better epitath.
A great, great loss.
Funeral arrangements are pending due to a search for relatives, but a memorial service will be held in Los Angeles in the near future. If you wish to be notified, please send your contact information to Ghooled@sbcglobal.net.
In lieu of flowers, anyone wishing to make a donation in Maila's name may contact the Much Love Animal Rescue at http://www.muchlove.org/index.php